While working in the construction industry, there's always an inherent level of risk, but the autumn season can introduce particular hazards. Even with safety protocols in place and careful practices, the changing seasons may increase the likelihood of workplace incidents.
Fortunately, there are methods to minimize the risks posed by seasonal shifts. These include the adoption of improved safety protocols and the vigilant monitoring of procedures & operations. By taking these steps, it becomes possible to alleviate the hazards linked to adverse weather conditions, and in some cases, completely eliminate them.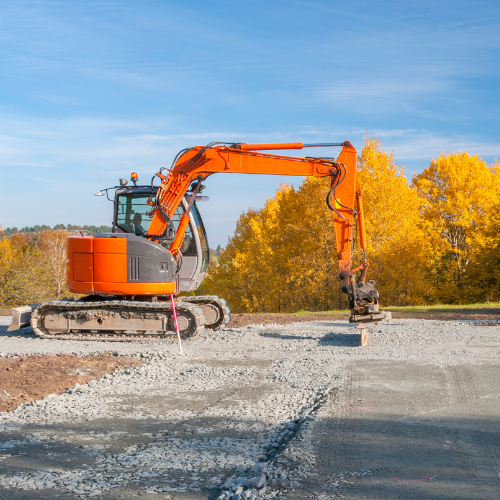 We have put together a list of potential risks that fall conditions can cause, as well as tips you can utilize at your site to minimize risk.
1. Darker Working Conditions: With daylight savings just around the corner, we lose ideal daylight working conditions and create a poor visibility environment
– Tip: Provide adequate lighting for darker hours of the workday.
2. Colder Temperatures: In many areas of the US, the fall season means colder temperatures, and colder temperatures increase the risk of injuries like pulled or strained muscles.
– Tip: Add heaters to necessary areas and or provide access to indoor areas for breaks.
3. Reduced Shade Coverage: Leaves falling reduces shade coverage.
– Tip: Add overhead protection for employees.
4. Muddy Conditions: With increased rainfall, muddy/slippery conditions become more apparent.
– Tip: increase ladder training and add gravel to high-traffic areas.
5. Increased Storms: Rainy conditions can increase moisture near electrical equipment, and increased wind can also damage supplies & equipment.
– Tip: Store equipment and supplies in dry, secure places.
We are always here to help and we hope these tips help you keep your work site safe & secure this fall. A friendly reminder to make sure you have appropriate work site signage, properly placed safety signs will decrease risks caused by autumn-associated conditions as well as increase safe site practices.
Contact us today to learn more about MSC's labeling & services.
Recommended Products