The purpose of having safety signage in the workplace is to identify and warn workers who may be exposed to hazards. Safety signs assist in the communication of important instructions, reinforce safety messages, and provide instruction for emergency situations. Workplaces have an obligation under Health & Safety Legislation to use signs where practicable to highlight a serious hazard or risk in the workplace.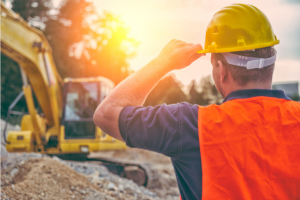 In short, by utilizing safety signs in hazardous work environments, you are providing a clear & concise message that not only reduces human error but increases employee safety.
OSHA provides a list with the Top Most Frequently Cited Standards 2021. See below to learn which safety signs can be implemented in what OSHA listed hazardous work environments to reduce the risk of incident or citation.
1. Fall Protection
​​​​​​Lack of fall protection is one of the top unintentional fatal workplace events. OSHA references that often "duty to have fall protection" when applicable, is necessary. Whether that be usage of guardrails, personal fall arrest systems, or requiring hard hats when protection from falling objects is needed.
Safety Sign Suggestions:
Notice – Hard Hats Must Be Worn In This Area
Danger – Personal Protective Equipment Must Be Worn In This Area
Caution – Hard Hat Area
2. Hazard Communications
Lack of Hazard Communication is a frequent citation given by OSHA. In order to ensure chemical safety in the workplace, information about identities of hazards of the chemicals must be available & understandable to employees.
Safety Sign Suggestions:
Danger – Chemical Unloading – Area Authorized Personnel Only
Danger – Wear Face Shields And Gloves When Unloading Chemicals
Danger – Sulfuric Acid – Eye Protection And Protective Clothing Required
3. Control of Hazardous Energy
During the servicing & maintenance of machines and equipment, the unexpected startup or release of stored energy can result in serious injury or fatality. Proper lockout/tagout practices and procedures can help safeguard workers.
Safety Sign Suggestions:
Danger – This Equipment Starts Automatically
Danger – High Voltage Keep Out
4. Eye and Face Protection
Thousands of people are blinded each year from work-related eye injuries that could have been prevented with the proper selection and use of eye and face protection. OSHA requires eye protection be provided whenever necessary to protect against chemical environmental, radiological, or mechanical irritants and hazards.
Safety Sign Suggestions:
Danger – Eye Protection Required Beyond This Point
Emergency – Eye Wash Station
5. Powered Industrial Trucks
OSHA provides safety requirements relating to fire protection, design, maintenance, and use of power industrial trucks to maintain a safe facility. Falling loads, pedestrian safety, and loading dock falls are some of the most common incidents to occur.
Safety Sign Suggestions:
Caution – Forklift Traffic Keep Clear
By utilizing safety signs in hazardous work environments you have the ability to increase employee safety and reduce the risk of receiving a citation. Click here to view all of the safety signs referenced above & more!
Recommended Products