Choosing the right material for your labeling needs can be tricky. With so many options out there, it can be hard to figure out what material would work best for you and when done incorrectly it can lead to wasted time & money. Here are a few questions & factors you can consider to help you with your labeling material choice: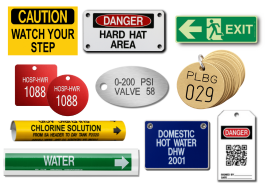 1. Material Longevity
How long will you need to utilize these labels? If you intend to update/replace your labels every year or if your facility is temporary, you might not need to most durable material on the market. However, if you need your labels to last long term and/or in a very harsh environment, then longevity might be an important factor.
Recommendations: For long-term use, we recommend any of our premium materials that have 5 + years of durability like our MS-215, Aluminum Composite, or Stainless Steel. For short-term use, we recommend our Temporary Thermoplastic or Enameled Aluminum.
2. Material Environment Durability
What type of environment will these labels be in? Considering the environmental factors that will affect the life of your labels can help narrow down the material search. Will the label be in a 72-degree indoor office space? Or will it be outdoors in sub-zero temperatures with direct sun exposure? Ask yourself the below questions:
Is the environment…
Indoors or outdoors?
Exposed to direct sunlight?
Wet or dry?
Subject to washdowns or chemical cleanings?
Dark?
Recommendations: For outdoor environments, we recommend high-durability products like MS-215, Engraved Plastic, Aluminum Composite, Enameled Aluminum, or our outdoor-rated MS-900 W/ UV Overlaminate material. For environments subject to washdowns, we recommend premium materials like our Stainless Steel or Engraved Plastic to keep the information on your material/labels from fading. For dark environments, we recommend our reflective or glow-in-the-dark materials.
3. Material Installation Surface Durability
What type of surface will these labels be installed on? Understanding the installation surface can help you determine the material needed. If the surface gets extremely hot or cold, then perhaps you need a material that can withstand extremely high & low surface temperatures. Ask yourself the below questions:
Is the installation surface…
Wet or dry?
Hot or cold?
Flat, uneven, or rounded?
At eye level or in a hard to see spot?
Recommendations: For curved surfaces, we recommend flexible material like our MS-215 Flex or MS-900 Self Adhesive. For wet, hot, or cold piping, we recommend our MS-995 Carrier material.
Utilizing the correct labeling material is crucial for safety & efficient operations, but sometimes finding the right labeling material can be challenging. We are here to help! If you still have questions or need further assistance, our team would be happy to assist you in finding the right labeling materials to match your exact needs. Contact us here.
Recommended Products