When was the last time you or your team went through and reviewed the labels installed at your facility? If the answer is "So long ago, I can't remember", then it may be time to make sure your current labels are working properly. We have put together a list of things to look out for that may mean it's time to upgrade or replace your current labels.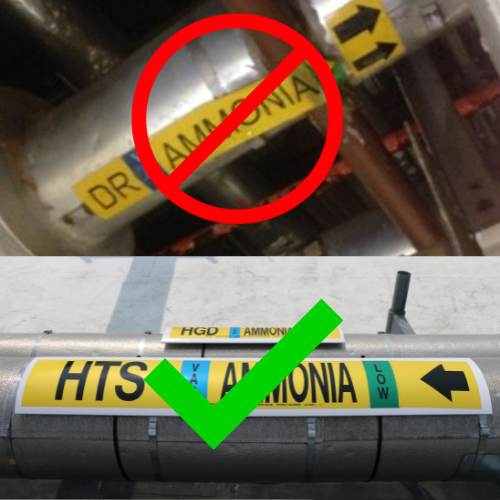 1. Insecure Application: Are your labels peeling off or not secured properly? If your labels start to peel, fall off, or are unstable, it may be time to get some new ones. Avoid scenarios where your employees miss crucial information because labels fall off or become illegible. Even in the mildest operating environments some labels are prone to peeling or are not designed to last longer than a few months.
2. Fading Information: Are your labels hard to read or illegible due to fading? If you are having a hard time reading the information on your labels or they are completely illegible, we highly recommend replacing them. Don't risk employees missing crucial operating, maintenance, or emergency information.
3. Outdated or Incorrect Data: Are your labels providing the correct information? ​​​​​​Have there been changes to your facility causing information on any of your labels to become inaccurate or irrelevant? If so, you should replace these labels immediately with ones that relay the most current facility information.
4. Compliance/Standards: Are your labels up to date with the most current standards and regulations? ​​​​​Have there been updates to the standards or regulations your facility follows? To maintain compliance, avoid fines, and ensure safety you should update your labels to adhere to the most recent publication.
Recommendations:
To avoid peeling or labels falling off, we recommend choosing labels that utilize installation methods that best suit your needs! If you need powerful adhesive labels, utilize MS-900 Self-Adhesive Labels or if you need to replace insecure or peeling pipe markers, try our MS-995 Coiled Pipe Markers.
To avoid legends fading, we recommend using a more durable label material. Try utilizing MS-215 Signs or Tags to replace any fading tags & signs, and MS-995 Carrier Pipe Markers to avoid any fading on outdoor piping systems.
Want to speak with someone about replacing your current labels? Contact us today!
Recommended Products