MS-995 Marine & Offshore Pipe Markers
MS-995 Marine & Offshore Pipe Markers are manufactured for extended life in harsh surroundings involving marine & offshore environments. Use MS-995 pipe markers to label piping on production platforms, drill rigs, ships, and FPSOs. MS-995 pipe markers are tested and produced to withstand prolonged exposure to direct sunlight, salt water, harsh process chemicals, acids, caustics, and hydrocarbons. This superior durability allows us to guarantee the marker for a minimum of five years or we will replace them at no charge.
Pre-coiled markers install easily by wrapping entirely around the pipe diameter and self-seal with a permanent lock-down strip
Installation can be on either bare or insulated pipe, and requires no surface preparation for attachment since they bond to themselves, not the pipe surface
Can be easily removed and reinstalled
Service temperature range: -40°F to 250°F (-40°C to 121°C)
Custom pipe markers available to meet plant-specific needs for color, pipe diameter, and information (including From/To, P&ID numbers, line numbers, pipe contents, flow direction, etc.)
Comply with Regulatory and International Standards including "RECOMMENDED ISO 14726:2008 Ship and Marine Technology Identification Colors for the Content of Piping Systems" where outer bands (38mm) denote family colors (i.e. blue for fresh water, brown for fuel), and inner/center band (229mm) denotes specific services within the family (i.e. maroon for drill water, grey for distilled water).
| Style Marker | Marker Size with Arrow | Letter Size |
| --- | --- | --- |
| A | 1" x 8" | 3/4" |
| B | 2 1/4" x 13" | 1 3/4" |
| C | 4" x 24" | 2 1/2" |
| D | 4" x 32" | 3 1/2" |
Contact Us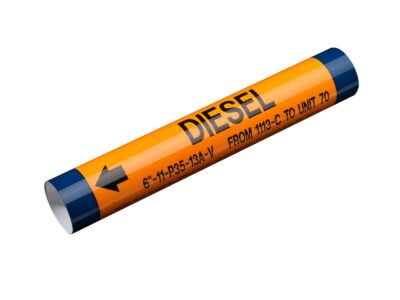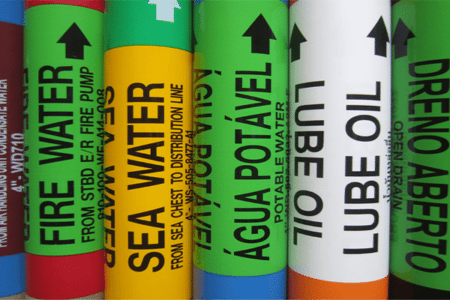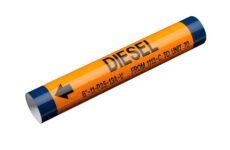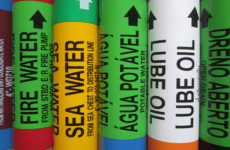 Marine & Offshore Process Labeling & Signage
Learn About How Our Products Become an Integral Part of Routine Marine & Offshore Operations
DOWNLOAD CATALOG