MS-200 Valve Tags
MS-200 engraved polycarbonate tags and nameplates are an economical and easy way to label valves, instrumentation, and equipment. The unique MS-200 material provides a durable marking solution for demanding chemical wash-down environments.
MS-200 Valve Tags are constructed by laser engraving on a tough, polycarbonate material. The black engraved information clearly shows against the background color and may include barcoding or QR codes. The legends are permanent laser markings and are not damaged by pressure washing or detergents.
Gloss finish material with raised laser legend sized to fit within a tag
Ideal for equipment subject to frequent wash-downs or chemical cleanings
Available in standard yellow, orange, and white polycarbonate material
Legend color available in black
Mounting through holes or adhesive back
Outdoor durable, 5-year outdoor life
Service temperature range: -40° F to 225° F (-40° C to 108° C)
Material thickness: .100" (2.54 mm); Other thicknesses available
No minimum order quantity
Markers can be customized for size and shape
Each tag/nameplate can include multiple lines of text, equipment number, operations and maintenance instructions, safety precautions, barcoding or QR codes, or other critical information.
We improve and standardize the labeling of hazards and components to promote safer work environments and minimize downtime due to errors or accidents. We provide a full complement of products designed to fulfill labeling needs in nearly any environment. Through our commitment to providing value-added services, high-quality products, and on-time delivery, we're a one-stop, comprehensive source for all your labeling needs.
Contact us today to order or learn more about MSC's labeling products and services.
Contact Us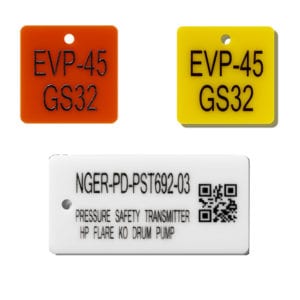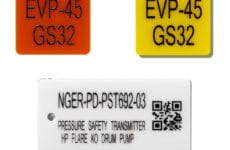 MS-200 Valve Tags
An economical and easy way to label valves, instrumentation, and equipment.
Download Product Sheet