MS-300 Markers, Signs, and Tags
Marking Services Canada (MSC) offers the versatile MS-300 material for markers, signs, tags, and dry erase boards. The unique product provides a durable marking solution for demanding indoor applications. It provides high impact strength, toughness, and chemical resistance.
MS-300 signs are constructed by subsurface printing on a tough, transparent, thermoplastic material. MS-300 products are suitable for labeling in an FDA compliant environment. They hold up well to radiation and chemical sterilization techniques and are ideal for medical and laboratory environments.
Chemical and water resistant
Formable
Can be made as a metal detectable sign
Can be used in chemical wash down environments (CIP systems)
Service temperature range: -40° F to 150° F (-40° C to 66° C)
Material thickness: .125″ (3.175 mm); alternative thicknesses available
No minimum order quantity
Markers can be customized for size and color
Marking Services improves and standardizes the identification of hazards and components to promote safer work environments and minimize downtime due to errors or accidents. We provide a full complement of identification products designed to fulfill identification needs in nearly any environment. Through our commitment to providing value-added services, high-quality products and on-time delivery, MSC offers you a one-stop, comprehensive source for all your identification needs.
Contact Us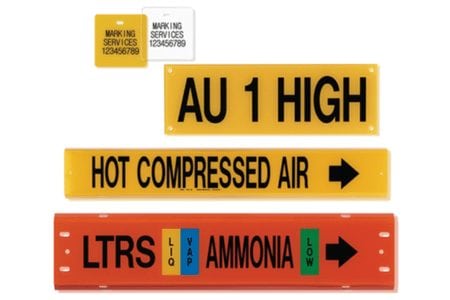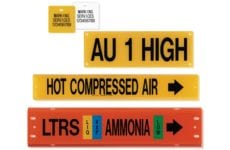 MS-300 Markers, Signs, and Tags
Providing High Impact Strength, Toughness, and Chemical Resistance
DOWNLOAD PRODUCT SHEET